Home
Featured Categories
Discover the artistry and elegance of Kohana's handcrafted decor, thoughtfully categorized to adorn different aspects of your home. From the heart of your kitchen to the ambience of your living spaces
Curated just for you, discover the crème de la crème of handcrafted home decor in this special selection.
ELEVATING HOMES WITH NATURE- INSPIRED, ARTISANAL DECOR.
At Kohana Homes, our mission is to redefine modern living by intertwining India's rich artisanal legacy with sustainable practices. We aim to curate and offer products that not only enhance homes but also resonate with a deep sense of responsibility towards our planet and its inhabitants. Through our collaborations with craftsmen, brands, and experts, we endeavour to create a harmonious ecosystem where beauty meets sustainability.
Tic Toc
The Clock is Ticking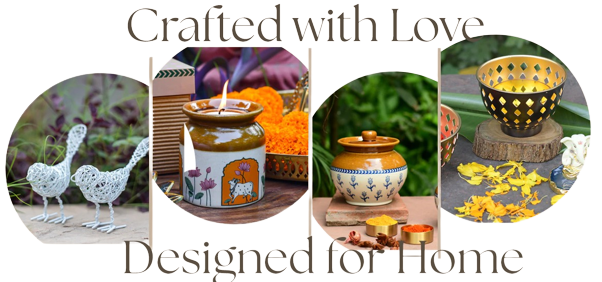 Your trust is our motivation, and these authentic voices stand testament to our commitment to excellence.
One of the most beautifully curated set of home Decor products I have ever seen. Customer service is reliable and delivery's were on time. I had to buy gifts for friends and the products were beautifully packed.
Found Kohana Homes while looking for home stuff. Their website is nice! Ordered some jars and they were really pretty and useful. Love how they mix Indian style with new designs. Everything came on time and was in good shape. Everyone who comes over loves them. Thinking of buying their candles next. Great place for home things! ????
Great buy! Using the set of ceramic jars in my home.... it not only serves its primary purpose of storage but also elevates the décor of the room,.. acting as a statement piece in its own right..
humaira mishra
2023-08-13
Love the products !!! They are beautifully designed ????❤️
Krishnagopal Abhay
2023-07-28
I am truly amazed at the quality and customer satisfaction provided by Kohana Homes. After having ordered multiple times, I can say it with certainty that they are the best in business. The aesthetics, the packaging, the quality - everything brilliant!
Loved It!! I bought mugs and scented candles through Swiggy Minis. Beautifully crafted and high quality products. Got the products within a day and the packing was on point. 🙂
Follow us on Instagram
From behind-the-scenes glimpses to styled spaces, get inspired and stay connected with our latest creations and stories.